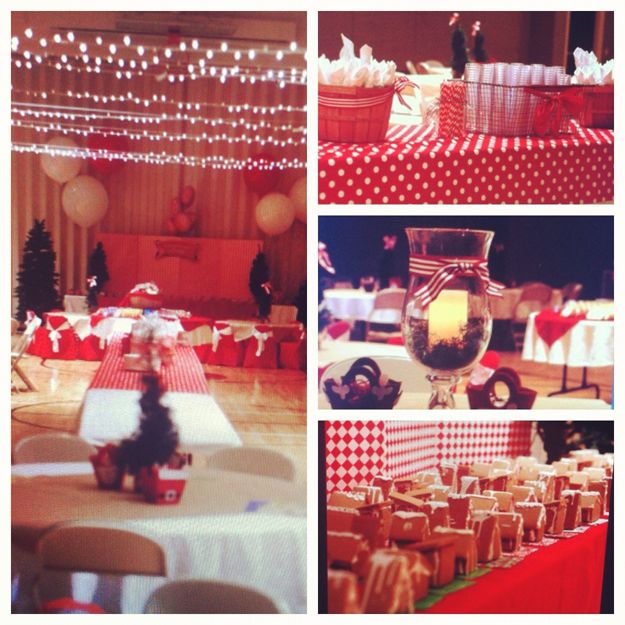 Jon and I were put in charge of our ward's Christmas party at church. It completely stressed me out to begin with but as soon as I got my bearings it ended up being a lot of fun. I was so busy with it that I forgot to take any really decent pictures. (huge bummer)
We had A Christmas Breakfast which was fun complete with a cereal bar for kids and donut holes and then breakfast egg casseroles, fruit kabobs and cinnamon rolls for the adults.
I decorated the tables with white table cloths and then used kraft paper as the table toppers. We put little felt Christmas themed buckets on each table filled with crayons so that kids (and adults) could color during breakfast. Half of the tables I put small faux Christmas trees with burlap wrapped bottoms and then tied red and white striped grosgrain ribbon bows on the top of each. The other tables I used glass vases of different shapes and sizes with green moss inside, battery lit "flickering" candles and again tied with the red and white striped grosgrain ribbons.
I knew from the very beginning that since it was going to be in the gym I had to somehow "drop" the ceiling.
I enlisted Jon and he and our friend Paul strung white twinkling lights the whole length of the gym.
We turned off all the lights and so the main light in the room was from the christmas lights and then the candles in the vases. It looked so pretty.
My friend Missy was INCREDIBLE and I could NOT have done it without her. We put together 90 gingerbread houses for the primary children to decorate.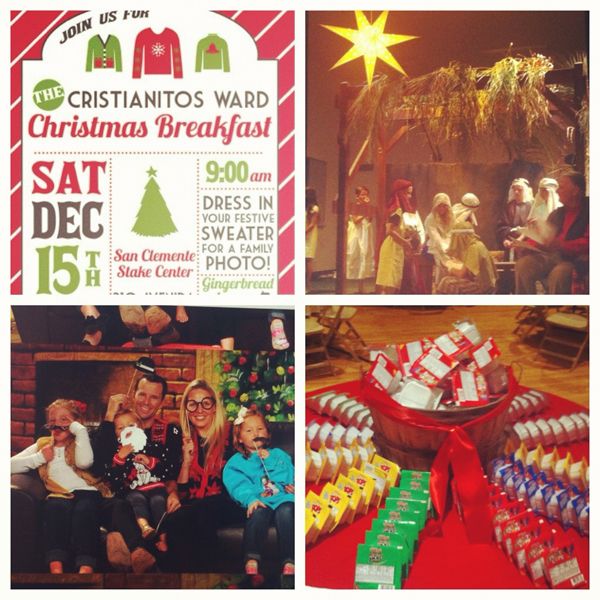 The primary kids put on a short Nativity which was so sweet and my friend Missy and I found the most hilarious backdrop in a closet at church that I think was used behind Santa Claus one year for photos. We set up a brown couch in front of it and had a bunch of little props as well. We had family portraits taken by my dad who came and set up lights and then had a link where families could download the pictures after the party (the picture of our family shown above is just one off of my phone. the real ones were great). It was an "ugly sweater" breakfast so the pictures turned out pretty funny. Missy made an amazing Christmas mix which we had playing --- music makes everything more fun.
So much fun but also so much work. I was honestly most relieved when it was over.
A fun memory for sure.