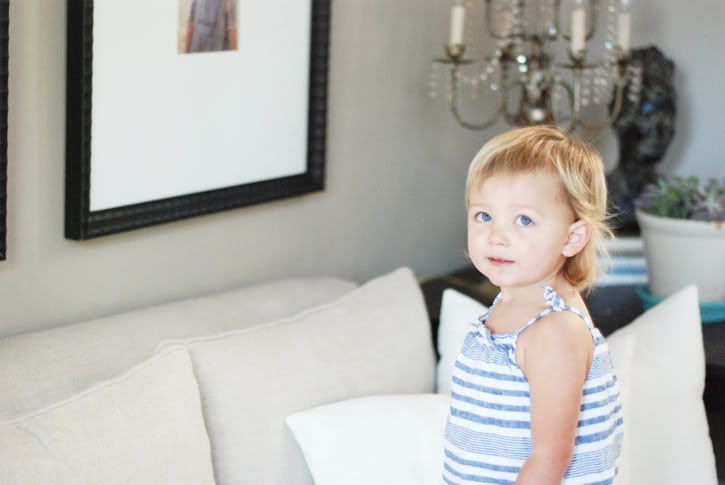 Yep, my baby pie-pie is growing-up. She is 2 1/2 and that is so hard to believe.
I regretfully don't have a baby book going for this one so here are a few things I don't want to forget...
Lily's very favorite song in the whole wide world is called "Cutie Patootie". It's on repeat at our house. She points to the computer and dances a little and then I know exactly what she wants.
I go to iTunes, put the song on repeat and she's happy as a clam.
She refuses to wear a bow, headband or clip in her hair. She acts as if she's allergic.
Her favorite thing to say is, "I do, I do, I do, I do, I do, I do, I do, I do".
She says it loud and fast for just about everything.
She's a daddy's girl. If he's in the room I might as well be chopped liver.
And speaking of food, Lily's favorite food in the whole wide world is macaroni and cheese. And if she's able to be picky she LOVES the kind from Panera Bread.
If I ever drive past that place she starts chiming in from the back seat, saying, "nu-nuuuuuuu's!!" (her way of saying, noodles)
If we're in the car and I put the car in park she raises her little hand and says, "me!"
That means she wants to go with me into the store. I think it's so funny and cute.
Before bed she LOVES to have Dr. Seuss' The Foot Book read to her.
Lily gives the world's best hugs and kisses. I get them all day long.
The best is when she gives me leg hugs. She just walks up to me and snuggles on my leg. I love it.
The main purpose of this blog is to keep a record of our family. Someday I hope Lily will read this and know not just some funny things about her toddler years but how much her mama has loved and adored her, even from the beginning.
I love you, sweet Lily. I'm glad you're mine.