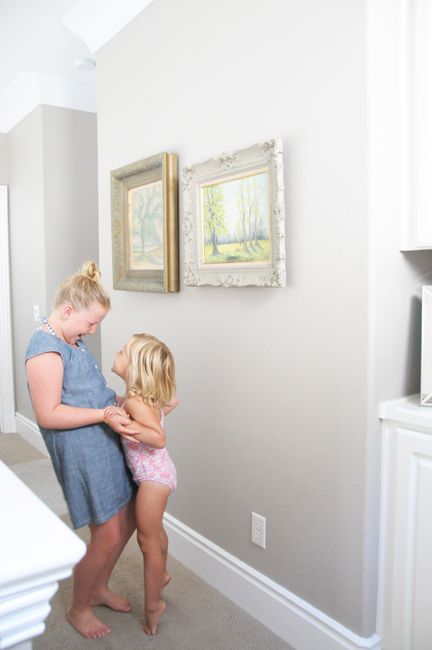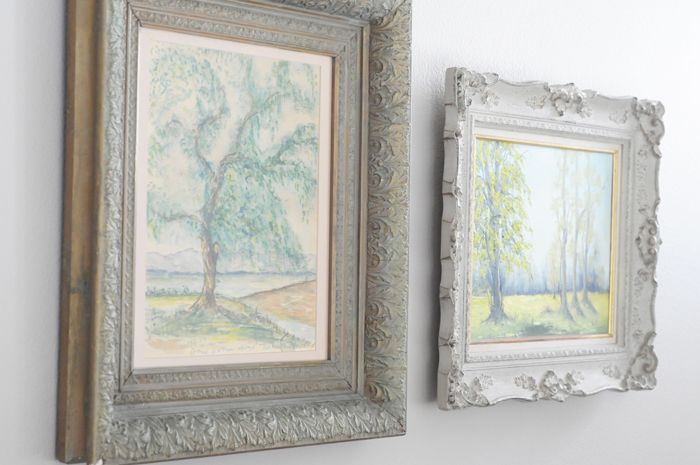 Every room in our home has been pieced together over time with things I have found here and there. We've had a few large purchases but those have been spaced out over the past 9 years we've lived in this home. The other pieces I have found in antique and consignment stores. I usually see something I absolutely love and then will figure out later how I can make it work in our home. Most everything has a story and I can remember where I purchased it, who I was with and have made some really good friends with the owners of the local shops in town. My two very favorite stores were Arbor and Erba Home, both of which are no longer in business. So sad!
At the top of our stairs I have these two paintings of trees. I love them so much. When I spotted them I knew I LOVED them but had no clue where I could put them. After I got them home, I still didn't know where they could go until I was lying in bed one night looking down the upstairs hallway. I ran downstairs and grabbed the paintings and they were hung that night. When I'm in bed I can see down the hallway and when the lights are on in the hall and the house is dark they look so pretty. They are original pieces of artwork that I found in a consignment shop. They are not by the same artist nor do they have matching frames but I thought they looked so pretty together. The scale looks really off in these pictures for some reason. They're quite large. I've had them for over a year but they hang in a difficult spot to photograph.
On the bottom of one of the paintings, it reads,
"To Wini, ATree is a Tree, always! 1954"
I think that little personal note on the bottom is my very favorite part. I wish so much that I knew the story behind it. Cute Elle and Lily saw me taking the pictures and asked if they could jump in. Pretty cute.