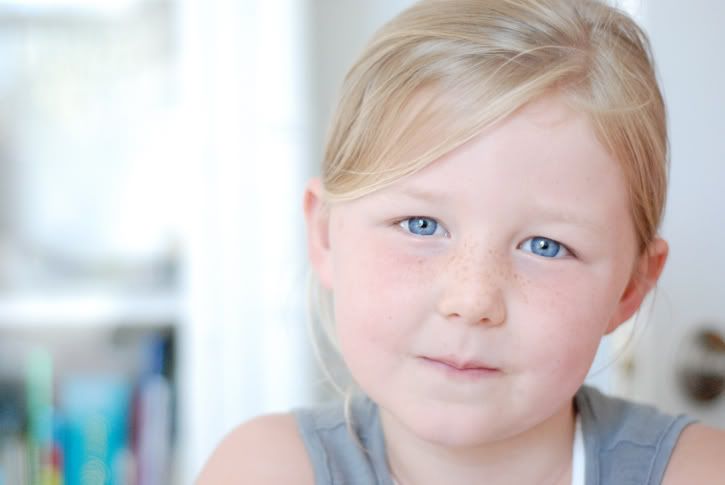 Jon and I spent the last week in Mexico. We went with my sisters Megan and Josie and their husbands and my brother, Jake (we missed you Briar and Ben)! It was a super fun week and I don't have any pictures to show for it. My brother was our main photographer. As soon as I get his photos I will post them and talk more about our fun adventures. Our flight home was delayed (3 hours sitting on the plane only to have to eventually get off) and then cancelled. It took us 32 hours to finally make it home. Not fun especially when most of that time was spent in a mexican airport. I was missing my girls more than anything. We did arrive home however to happy kids thanks to lots of help from family and friends. We were also greeted by a broken water heater and flooded garage. Welcome Home to us! I think I need a vacation to recover from our vacation.
On a side note...this picture of Elle is so cute. I just love this girl so much. As soon as I got in the door last night I walked straight to Lily, Elle and Gwen's bedrooms and hugged and kissed them. Elle woke up and just started sobbing and hugging me. She kept saying, "I missed you so much, mama". She had soo much fun and was such a good girl but finally just broke down when she saw me. Such a sweet little girl. Today she came home from school with a little booklet she had accidentally left last week in her cubby. It was made for me for mother's day. The pictures she drew are priceless and her writing and words are so cute. It is a booklet titled, "My Mom". Here were her answers just how she spelled them in her book...
My Mom
She is: 35 years old
She weighs: 107 pounds
She is: 33 feet tall
Her hair is: blod
She likes to wear: jenz
Her favorite food is: shugr snap peas
My mom works hard all day. She is a: smile macr
She really likes to: help me clein up the goroj
She does not like: scucxs
She stays in shape by: cling up
If I could, I would buy my mom a: crd
I am going to keep this little book forever.