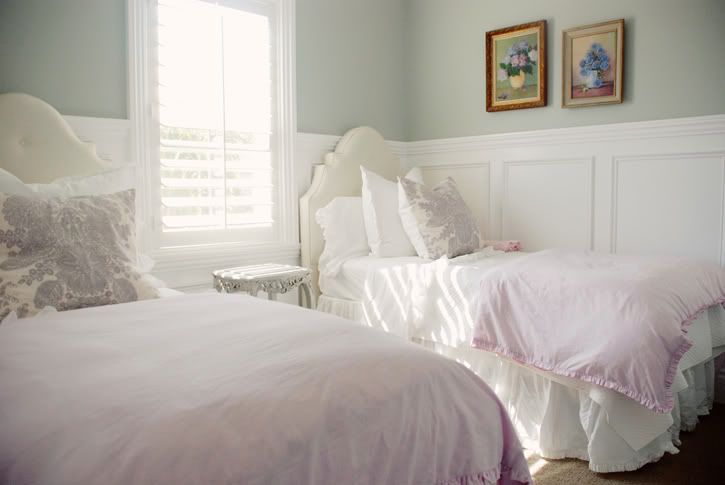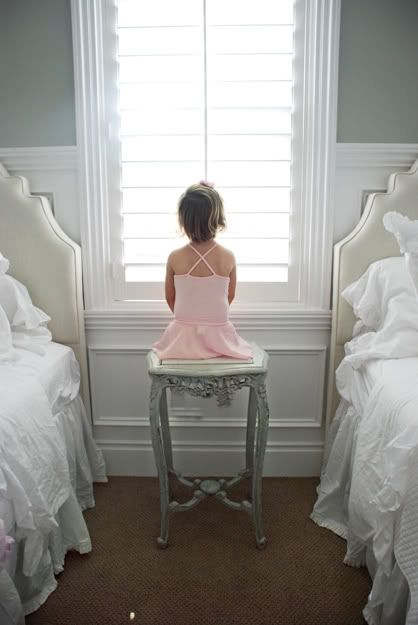 After Gwen jumped out of her crib, I knew it was time to move her to a real bed.  Lily has now taken up residence in Gwen's old room and Elle and Gwen now share a room.  We had to get rid of Elle's double bed and get twin beds.  The best part was that I was able to put together a new room...one of my very favorite things to do.  I love the look of two twin beds in a little girls room...always have.  I had a small milk glass lamp with a linen shade on the sidetable but Gwen knocked it off, it broke and that was the end of that.  I have a few more things I would like to do in there to finish it but for now, I think it looks pretty cute. Most importantly, Elle and Gwen love it too.  
My two favorite pieces of furniture are the antique side table and armoire.  I purchased them a few years back from one of my very favorite shops,
French Blue and Co.
 I have mentioned the shop before when I wrote about another favorite piece I have from them, an
antitque ceramic lamp
.  Not only do I love the shop but I love the owner, Janet.  She and her daughters go on buying trips to Paris and bring home treasures that they add to their shop.  Maybe one day they won't notice if I sneak into their suitcase for the trip...