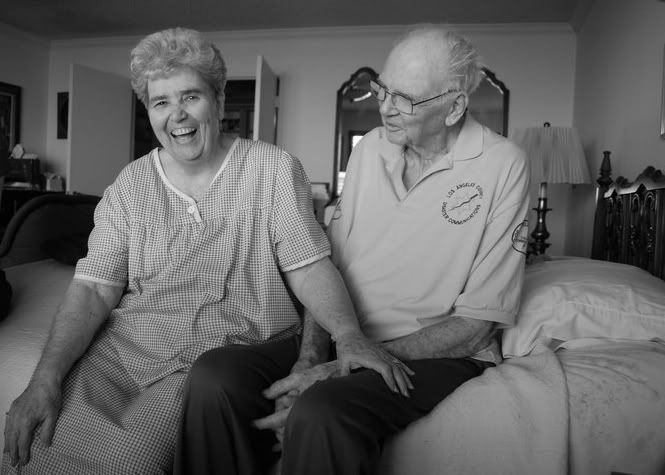 My sweet grandma who we have always called, Bobbi, passed away yesterday. I miss her already. Last week I got a phone call from my dad that she had a stroke and was in the hospital. It was very unexpected. I got friends to help with my kids and drove straight to the hospital. When I walked into the hospital room my grandpa, chief, was holding her hand and softly crying. It was the sweetest thing I've ever seen. He got out of his wheelchair and stood and kissed her on her forehead and whispered to her, "that's what I dreamed about all night, Barb." I hugged him and he cried on my shoulder. He reminded me that they had been married for 66 years. All I could do was hug him right back and cry right along with him. I was able to kiss her on her forehead and tell her into her ear how much I loved her and how grateful I was to have been her granddaughter. I am so happy that I was able to see her one last time.
I was lucky enough to have had my grandparents living just 2 miles from my house growing up. They would have us over every Sunday night for popcorn. They also hosted sleepovers and in the morning we would wake up to donuts, cocoa krispies and chocolate milk...every time. For every grandchild's birthday, Bobbi would take you out for "Bobbi's Special Day". It included her picking you up, taking you anywhere you wanted for lunch and then she would have a special place she would take you....to see a play, a favorite movie, the circus...whatever. I looked forward to those dates every year. I also remember her singing in the choir at church and she would send secret signals to her grandkids in the audience by wiggling her nose. We would wiggle our noses right back at her...it was our secret sign. Bobbi was at every single one of my long dance recitals, graduations, Jon's and my wedding, baby blessings etc. She was always there. Even up until quite recently I would still get phone calls from her just checking in on me. She would always ask about my little girls, I would get soup recipes from her (she had the best) and she would fill me in on all of my cousins. I loved it.
I know I'll be able to see her again someday but I miss her so much already. I feel so grateful that she was such a big part of my life. Her laugh and smile are still fresh in my memory.
I love you, Bobbi.