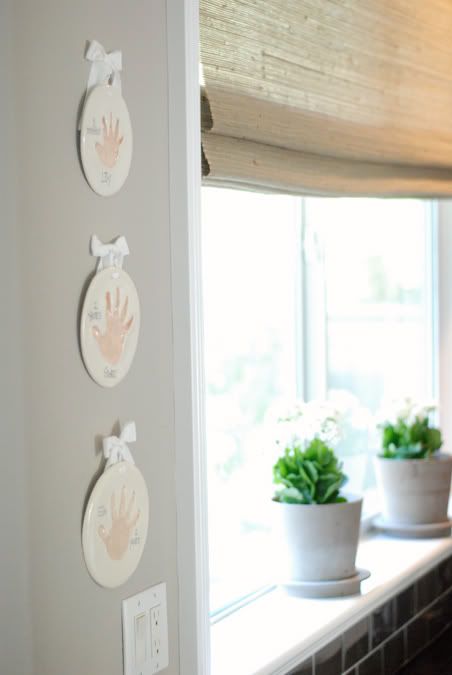 A few years back my mom somehow rounded-up all of my sisters' and my brother's hand prints. We had all done them at some point during elementary school for mother's day and Christmas gifts. She even happened to find one of her own handprints in clay from when she was a child. She has them all framed together and it is one of my favorite things she has. I decided that I wanted to make sure I had my girls' handprints in clay as well. I had Elle's and Gwen's done a few years back and they have been hanging up in our kitchen ever since. I had Lily's done a few months back and just went and picked it up the other day. I hung hers right with her sisters' on cream grosgrain ribbon. It is probably my favorite thing in our house. I love looking at them and so do the girls.
The linen covered chairs that flank my antique green chest are back together again. One of the chairs had broken and it took me quite some time to get around to getting it fixed. The carpenter dropped it off yesterday and I love having the set back. They were an amazing find a few years back from one of my favorite stores...
French Blue & Co.
And last but not least our front door and new wreath. When we first bought this house our front door was a faded, splotchy aqua color. It had just as faded splotchy (ugly) aqua shutters to match. The first week we moved in I painted both the shutters and the front door a glossy black. It transformed our house and I have loved it ever since. My wreath I had made from my favorite florist. I had the branch wreath and have switched out what is tied on top of it a few times. Recently I asked her to make me a plain moss wreath to add to it. She did and it looked beautiful but since my front door has full sunlight it turned brown and dried out much faster than I had hoped. I took it back to the florist for some other ideas and she then made me this amazing faux moss wreath and tied it onto the branch wreath. Faux greenery usually equals bad (really bad) but I think in this case it worked.
I really, really love our little house. When we first bought this home almost 6 years ago it was just a house. We have re-done almost every square inch of this place. I truly feel now that it reflects us as a family. It is not just a house anymore. This is our home.